BOTOX® Cosmetic is a simple, FDA approved, nonsurgical, physician-administered treatment to temporarily smooth moderate to severe lines between your brows, peri-occular area (crows feet), and upper lip.
OVERVIEW
This purified protein reduces the activity of the muscles that cause lines to form over time. Following the treatment, visible results can be seen within days and last up to 4 months. If you discontinue treatment, the lines will gradually look like they did before treatment.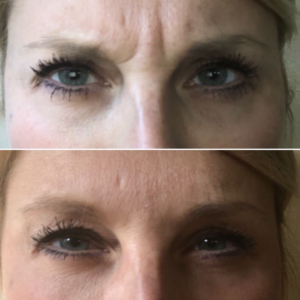 MEDICAL
Certified by the American Board of Dermatology in 2010 and is an active member of the American Academy of Dermatology, American Society of Dermatologic Surgeons, and the Lexington Medical Society.
Published several articles in peer-reviewed dermatologic journals and given presentations at national meetings.
Practices general, surgical, and cosmetic dermatology.
THE PROCESS
Our physicians will administer tiny injections of Botox® Cosmetic directly into the muscles that cause moderate to severe lines.
Men and women of varying ethnicities and skin types have been successfully treated with Botox® Cosmetic. Because it works only on the underlying muscles, you should not be concerned it will affect your skin color or texture.
By blocking the release of the chemical that causes these muscles to contract, Botox® Cosmetic enables them to relax, so the skin appears smoother.
No anesthesia is required, although you may receive an anesthetic cream prior to injecting. Discomfort is usually minimal and brief. You should experience no down time.
The most common side effect following injections includes temporary headache, tenderness and redness. Rarely, bruising and temporary eyelid droop may be associated with the injection.
With Botox® Cosmetic, you won't look like you have had work done. The muscle activity that causes lines is simply reduced. You can still show expression, but without wrinkles.